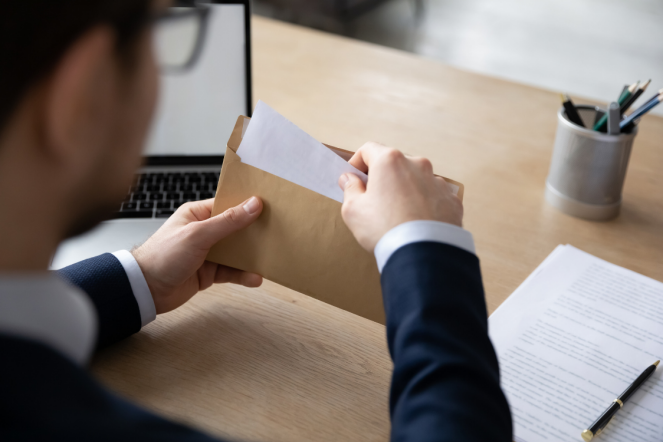 Direct Mail Sends The Right Message
"You know exactly what works and what doesn't with direct mail. That knowledge allows you to analyze and track your results, and get maximum return on every dollar."
Why is direct mail a winning strategy for loan officers? Because it delivers a perfect match between your message and your borrower's needs. Plus, a direct-mail message of affordable financing reaches the customer where it counts–at home. Prospects respond to direct mail by taking action, which can range from simply calling you, to visiting your office. Ultimately, the cost is low, compared to the results.
What's more, direct mail allows you to accurately measure your cost-per- lead, cost-per-appointment, and cost-per-closed loan. You know exactly what works and what doesn't with direct mail. That knowledge allows you to analyze and track your results, and get maximum return on every dollar. In short, it allows you to market smarter, not harder.
Today, consumer-direct mail is a strategic system–not a tactical technique. It incorporates the three fundamental elements of response marketing: audience, message, and presentation. The success of a direct-mail campaign rests with a creative mix of these three elements; 40 percent depends on the audience (list), 40 percent on the message (offer), and 20 percent on the presentation (creative).
Getting Started
In the real world, your first direct-mail task is to identify and rank your target customer groups. Are they past or current clients with refinancing business or referrals to share? Are they potential clients who are living in rentals, while dreaming of owning a home? Are they other professionals with whom you can create a mutually profitable, lead-exchange network? Your answers will determine what type of mailing lists you acquire. Over time, as your past-client list grows, that "trophy database" will become your most important business asset. Build it, use it, expand it, and invest in it.
Second, develop hot-button messages that each target audience wants or needs to hear. For example, your message could be an offer of money-saving or mistake-avoiding information, a reminder of critical tax or financing deadlines, or an announcement of a must-see special event.
Third, consider what is the best way to present your call-to-action message to your prime audience.
Seven Successful Direct-Mail Strategies
To make your job easier, I recently surveyed lending professionals nationwide (specifically for this article) to uncover their most successful direct-mail campaigns in use today.
From the many successful tactics, postcards, newsletters, and specialty letters that emerged as the most popular formats for direct mail, here are seven of the most effective strategies that originators use to get their messages out and bring new business in:
1. Offer valuable information. Newsletters that include up-to-date tips on obtaining mortgages or refinancing, tax news, and a response coupon proved to be stellar direct-mail performers. For example, Becky McMillan, with The Addison Mortgage Group in Boca Raton, Fla., uses a professionally published newsletter that was customized for her specific practice. "My database was limited," Becky said. "But it is increasing with referrals from previous clients, as well as new ones. It's a proven fact that being in touch with your database on a regular basis produces results!"
Personal letters targeting past and current clients are also effective. Writing about what's currently happening in the mortgage market, and asking for referrals, gains one survey respondent (who preferred anonymity to avoid tipping off his local competitors) two to three loans per each three-month period.
Larry Corrales, Senior Mortgage Consultant with Home Loan Corporation in Arlington, Texas, sends out postcards offering a brochure that tells potential borrowers how much new home they can afford. His mailing list was gleaned from respondents to his website. Corrales credits five loans within a 45-day period to his postcard direct-mail campaign.
2. Remind customers of critical events, dates. Ed Currie, of Biltmore Financial Bancorp in Palatine, Ill., sends out a mailing at real estate tax time every year to remind current clients to file for the "Homestead Exemption." Unlike most other counties, the county where Currie is located requires homeowners to file for the exemption annually, in order to reduce their tax bills. He includes copies of the tax bills with his letters. Currie says that 86 percent of the loans he closed last year were from past-client referrals, who return to him as a trusted advisor.
3. Promote the news of your successes. Almost every homeowner and renter knows someone who needs mortgage assistance. Another successful direct-mail strategy is to send your past and current clients a postcard, with a brief description of one or two recent successful loan transactions. End your message by asking for referrals. This "evidence of success" strategy keeps your name in front of your clients and subtly reinforces loyalty, which generates phone calls.
"Evidence of success" cards can also help initiate or increase referral arrangements with builders, Realtors, accountants, lawyers, and other professionals. Use this strategy if your focus is to expand your professional business-to-business referral base.
4. Identify and contact prospective homeowners. One survey respondent purchased a list of people renting apartments in multi-family buildings of two to 99 units and mailed 1,000 postcards per month to the residents. The mailing resulted in an average of two to three closed loans a month. In a profitable variation of the strategy, Robert Bartolomea, Pacific Coast Lending, Agoura Hills, Calif., scoped out a high-rent apartment district himself. He sent residents postcards comparing high rent payments with similar loan payments on a home. Bartolomea reports his cost for the campaign was approximately $600, and so far he has earned over $11,000 in commissions from closed loans generated by the postcards.
Identifying a niche of prospective homeowners is also an effective strategy. Steve Adams of Commonwealth Mortgage Company, obtained directories listing all of the teachers in his Louisville, Ky., market. He designed a direct-mail flyer especially for teachers who rented but would like to own. In the first week after his mailing, Adams took applications for two loans totaling more than $300,000 from his limited test. He plans to reach out to other counties with his mailing next. "Any time you can get immediate results from a mailing," he says, "I consider it a huge success!"
5. Publicize special features, special events. The use of postcards, brochures and letters to promote your seminars, website, 800 number, and 24-hour hotline is a growing trend. Richard and Mary Jo Peterson, senior mortgage consultants with GMAC Mortgage Corporation, partner with a Realtor in their Oklahoma City market-area to put on monthly "Buyers Classes" for current apartment dwellers. They use postcards to promote the event. Since classes started, the Petersons report several class members have been pre-approved and are in various stages of active home shopping.
6. Gather invaluable customer feedback. Dax Dunn, of RAD Financial Services Inc., Sunrise, Fla., participated in his company's direct-mail campaign to 1999 clients. RAD sent a direct-mail survey asking clients what their concerns were prior to and during the home-buying process. Clients were asked to rate RAD's services. A whopping 35 percent response rate told the financial services company that their clients had worried about a possible fluctuation in closing costs compared to their good faith estimate. RAD used the customer-centered feedback to develop a solution called a "Closing Cost Guarantee Program," in conjunction with selected title companies. They now promote the guarantee, which promises that if closing figures are off by more than $50, the company will absorb the difference.
7. Generate perpetual referrals with after-closing campaigns. Direct mail is perfectly suited to let your clients know that your interest in them goes beyond closing. Thoughtful letters from the heart at Thanksgiving, Christmas, and other special times of the year will keep your name in front of your client base and establish customer loyalty. Be sure to keep your clients on your newsletter mailing list, even after closing. The main strategy is to stay connected to a steady stream of future refinancings and referrals. Larry Brewster, of Freedom Mortgage Corp., Fairview Park, Ohio, sent out newsletters that included a "New Customer Preliminary Application Package" to approximately 700 past customers, Realtors, builders, and financial planners. Brewster says his direct-mail, after-closing campaign cost was less than $500 per month and estimates his pay back was 15 times that.
Direct Mail as a Strategic System
The advantages of successful direct-mail strategies are numerous. First of all, you reach your target customers in the most efficient way, with the most effective messages. Additionally, past clients and new prospects respond to you directly, and their responses translate into more qualified leads at lower cost. And because the results of direct mail are easily identifiable, you're able to measure and test the cost-effectiveness of each campaign.
Whether your well-planned mail campaign stands alone, or works as part of a larger media mix, direct mail is a successful rifle-shot way to out-market competitors, who waste money on less targeted shotgun advertising methods.
by Dan Gooder Richard